SMART Golf & Fitness is Chicago's premiere total game improvement destination. GroTurf was honored to design and build their custom putting green as well as outfit this incredible facility in our high-quality turfs.
Joe Sheren and Tommy Asuma's brilliant vision was a members-only facility that combines golf AND fitness to enhance golf games. Golf is a more physical sport than most people realize. To excel, one must have a combination of balance, power, speed, and good form. You must be able to twist your body and produce the right amount of momentum to send the ball where you want it to go. This requires you to have sufficient strength and joint flexibility. With the guidance of the SMART Golf & Fitness' team of experts, clients all over Illinois have taken their golf games to the next level.
The amenities in this golfing facility are endless!
Here is the 1,100 sq. ft. custom putting green GroTurf designed and built for the space. It has country club speed with a smooth roll thanks to our high quality 50 oz. nylon turf.
There are 7 hitting bays complete with Trackman where players will hit off of GroTurf's top-of-the-line mats. They're 1.25" pile height, which gives players realistic shot feedback. Tees are also able to be placed right in them!
The state of the art fitness facility has all the necessary tools to prepare your body for the demands of golfing. The space features GroTurf's custom logoed blue cross-fit turf as well as weight machines, free weights, and the latest in fitness and simulation technology. Fitness plans are tailored to each individual as opposed to a one-size-fits-all approach.
The Science and Motion (SAM) Putt Lab features GroTurf's high-quality 50oz. nylon putting turf, which provides a true roll for accurate SAM lab readings.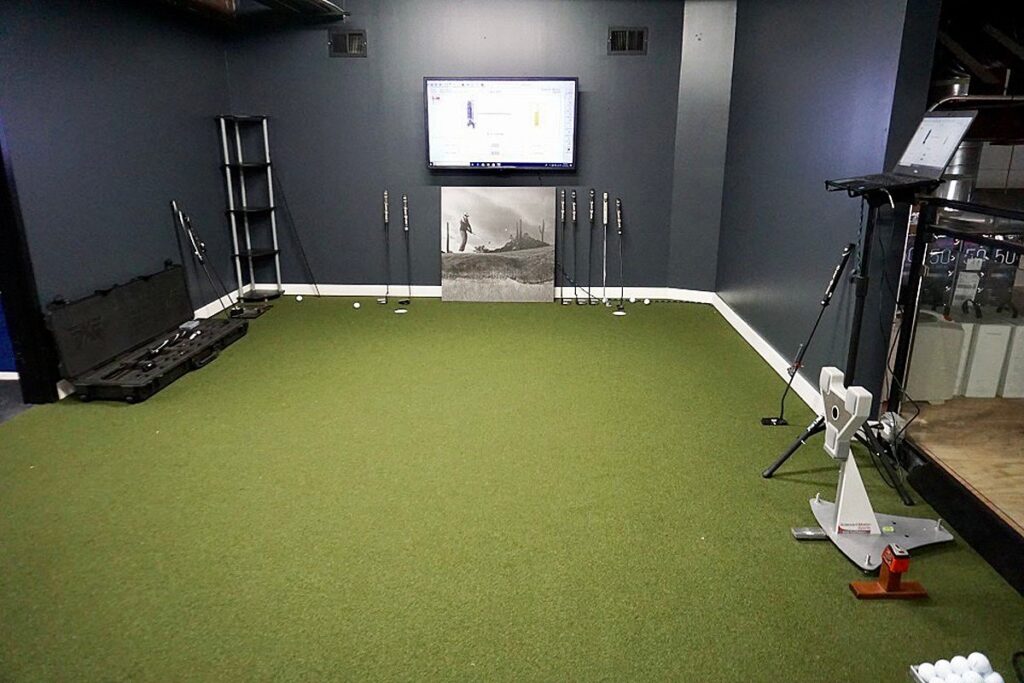 Be sure to visit this incredible golf and fitness concept here in Chicago, and take advantage of all the amenities available to you with a membership. A Smart Golf membership is designed to give you the best opportunity to utilize the customized program built for you by their expert professionals. Smart Golf believes that random hourly lessons do not allow players to achieve their goals and only provide short-term fixes. Simulator leagues and junior programs are also offered!