fitness and athletic turf
High-quality, durable fitness turf brings tremendous value to any type of athletic facility in Chicagoland. It's certainly a turn-off for someone to enter a fitness facility and see thin, worn, poorly seamed, faded, and pieced-together turf. Providing the best surface for your clients/players/teams sets you apart from other facilities and shows your regard for and commitment to their development. GroTurf installs many types of sport turf all over Chicagoland and the Midwest. Our indoor sport/fitness turf does not require infill, which keeps the space nice and tidy!
Fitness Facilities + Sports Fields
Our goal at GroTurf is for sports to be enjoyed on the highest quality turf specific to each activity. Our soft and durable artificial sport turf varieties and installation techniques combined with our experienced installation crew are unmatched.
These are some of the key ingredients for building and maintaining an elite training facility with high regard for and commitment to athlete development. Quality matters. The right turf matters.
Installation techniques and experience matter. Proper seaming matters. GroTurf is proud to be the trusted experts by so many Chicagoland businesses, trainers, and coaches.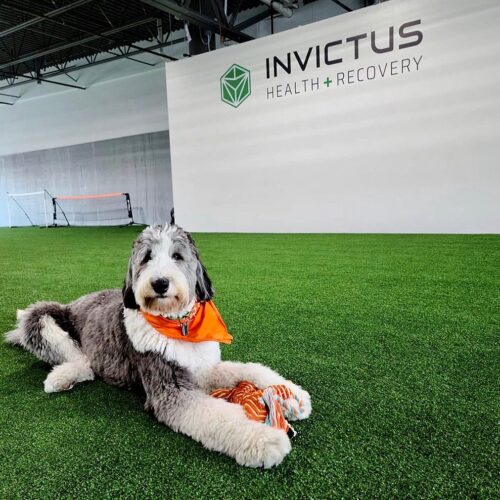 Even sweet Louie loves the turf at Dr. Caulfield's new sport and rehab facility in Geneva!
Our durable fitness turf is available in many colors and can even be printed with your custom logo, no matter how intricate, thanks to our manufacturer's state-of-the-art aqua jet machine. This vibrant blue fitness turf can be found at SmartGolf Fitness in Chicago, on which they push the sled and run sprints, among other exercises.
We cover baseball training facilities across Chicagoland in our high-quality padded sport turf, perfect for batting or fielding practice as well as training exercises. Our clay-colored batters box mats personalize the look and offer a durable surface for batting practice! This particular turf can be somewhat difficult to seam, but our expert turf installation team is frequently praised for their exceptional seaming abilities. A talented installation crew is just as important as quality product!
This short pile multi-sport turf is used for everything from rehabilitation exercises to rugby practice at Invictus Health + Recovery in Geneva. It's soft enough for barefoot activity and durable enough for any sport! This variety of turf does not require infill, making it ideal for an indoor space with a variety of uses.
Our custom-printed sport turf can also be found in the University of Louisville Football Team Players Lounge!
We are proud to have an extensive portfolio of projects. While not all are pictured here, we would be happy to show you images of projects similar to your vision during our initial consultation. Reach out today by calling us or 
submitting an inquiry form
 to start the conversation
additional Artificial grass services