The finest Putting Greens & Artificial Grass in Chicago
Our many artificial turf design/build capabilities include:
Superior customer service is something that sets GroTurf apart from the rest. Expect service that is friendly, approachable, attentive, and informative. GroTurf believes in using only the highest quality, American made, products installed exclusively by our expert installation team. We have relationships with the finest manufacturers who share in our same philosophies and standards of quality. 
GroTurf understands that your artificial grass application is an investment, and we take that very seriously so your investment is protected for years to come and you may fully enjoy all of the benefits artificial grass has to offer.
Equally important as our superior products is our installation crew dedicated to your project. The GroTurf installation team shares in the passion and enthusiasm of the owners and have extensive experience in all types of residential and commercial synthetic / artificial turf applications. Our crew is extremely knowledgeable and among the most highly skilled in the region. Our clients consistently rave about their attention to detail, craftsmanship, and cleanliness. Hiring us means you can count on our team, familiar with our products and designs, instead of subcontractors. The GroTurf Crew is committed to excellence in service, design, and installation techniques. Having the right installation team is extremely vital to the success of your project, and ours simply can't be beat. 
Brian Groszek and Jenna Sprengel are a husband-wife team who aim to do things differently. They are committed to attentive service, educating about the many benefits of high quality artificial grass applications, and delivering only the best in product and design so that you may enjoy the improved, relaxed lifestyle you've imagined.
Brian is a golf professional and current PGA Member since 1990. He is an accomplished player who also had great success as a golf instructor with many accolades including U.S. Kids Master Instructor, and USA Jr. National Team Coach. He changed focus in his career and began in the growing industry of synthetic and artificial turf, where he built a strong belief in the products and its playability. GroTurf allows Brian to combine his extensive expertise in golf and instruction with his knowledge of synthetic turf applications; this a considerable value for our putting green/golf clients. 
Over the years Jenna noticed the lack of female owners in the artificial turf business and feels a fresh perspective can improve on what currently exists in the industry. Jenna is eager to share the sanity artificial grass can bring to homeowners who spend so much time wiping muddy paws, shoes, and scrubbing floors. Jenna is also the President and Lead Designer of Avant Gardenia, an event floral design company. She brings to GroTurf her discerning eye for detail as well as a knack for understanding and anticipating client expectations and needs.

Celebrity Greens is an exclusive professional artificial turf Installer network – the best of the best. Partners are individually selected and invited based on their extensive experience and expertise in producing championship caliber synthetic golf greens and artificial lawns for residences, commercial properties, sports facilities, and playgrounds. GroTurf is honored to be the Chicago partner for Celebrity Greens.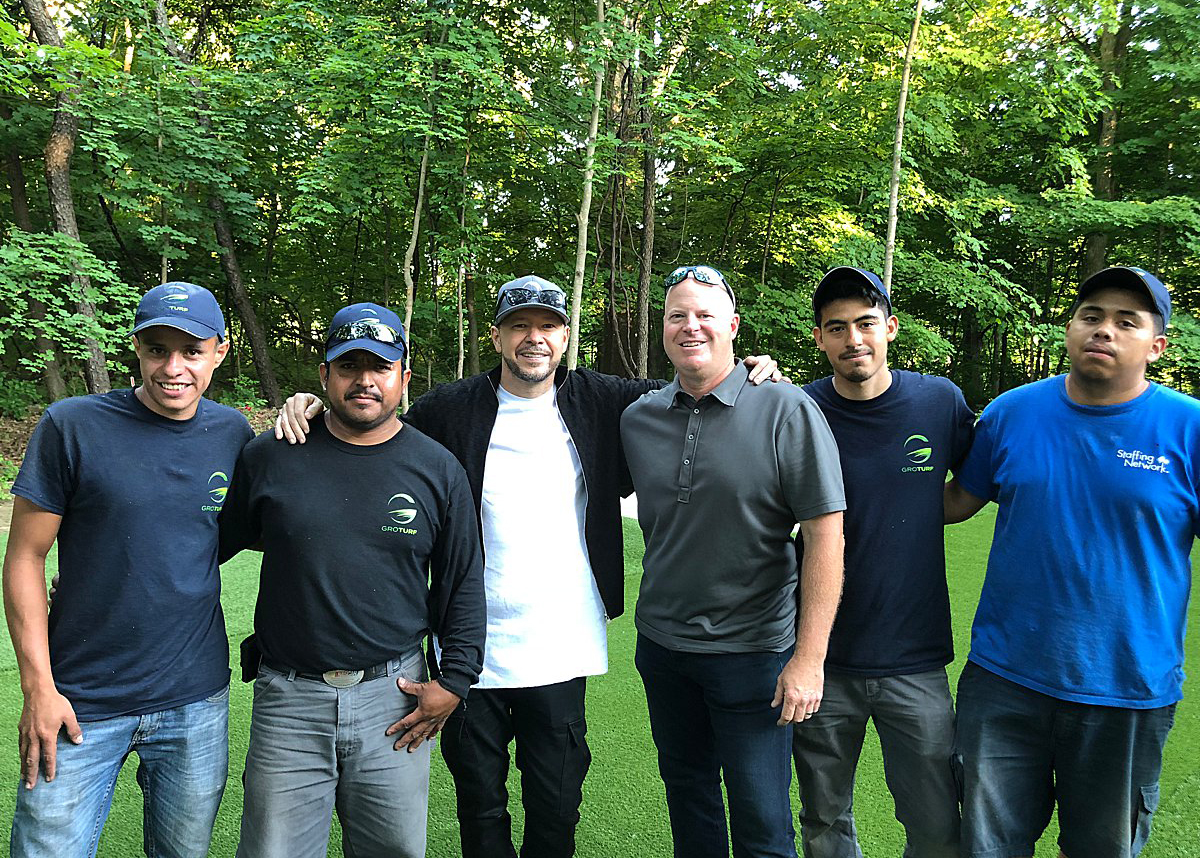 A portion of our team with Donnie Wahlberg after building his custom putting green.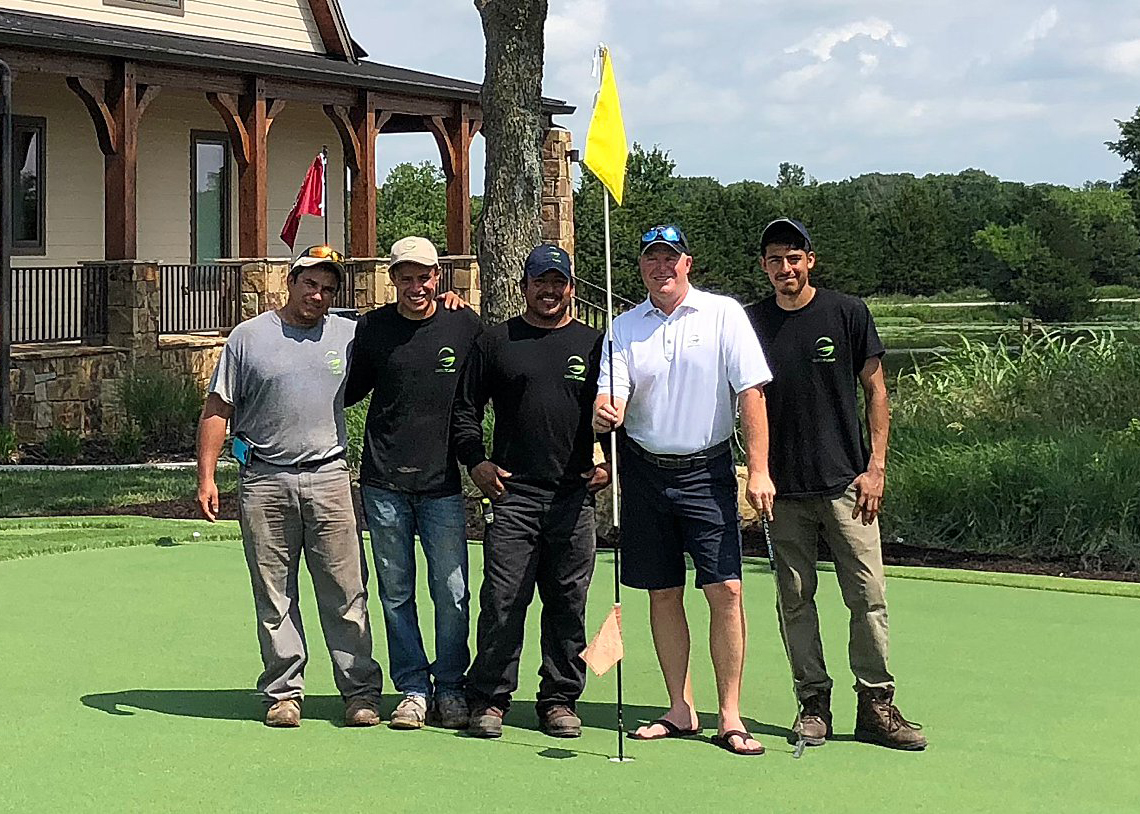 The GroTurf installation team after completing a large putting green project.
WHAT CLIENTS ARE SAYING
"I spent a lot of time researching product and other companies, and I couldn't be happier that I chose GroTurf for my indoor putting green and simulator room. It was important to me that the quality and craftsmanship match the look of my new home's basement, and GroTurf did not disappoint. Brian is easy to work with and very knowledgeable, plus I felt more confident having a PGA professional leading this project. From the start, Brian understood exactly what I was envisioning and how to exceed my expectations. The installers are also very precise, friendly, and clearly committed to the overall quality of the company. I highly recommend GroTurf for any artificial grass project, golf or otherwise."
All artificial grass is not created equal. GroTurf protects your investment with American made turf varieties that will last 15-20 years. It's a dream for pet owners!
Frequently asked questions
Can I install it myself ?
Artificial lawns and putting greens are not projects we recommend for DIY. There is a lot more involved than meets the eye. First, a large variation of specialized equipment is needed. Most importantly, in order to make either of these projects look aesthetically pleasing and function properly, experience and expertise is vital, as the turf needs to be properly cut and seamed to fit the space. Installations such as these are best executed by highly skilled professionals.
My dog is a digger; will they the damage the turf ?
One of the biggest reasons a dog digs is due to organic smells. Once the artificial turf is installed there will no longer be any organic smells because the natural lawn has been excavated and the dirt is covered with a minimum of 2" of compacted stone. Therefore, you'll find the dog will stop the digging because they won't smell anything to dig for.
How well does the turf drain ?
GroTurf's product is the best on the market; you won't find turf that drains better or faster. Not all turf products are created equal. Our product has 100% permeable backing, which allows all moisture to drain through quickly and evenly. It drains up to 10 times faster than natural grass!
How long will the turf last ?
GroTurf's products have an 8 year manufacturer warranty, but in our Midwest climate, and with proper, simple maintenance you can expect your turf to last anywhere from 15-20 years. Our product's specialized yarns protect against fading from sunlight as well as matting, so your grass blades will remain brilliantly green and upright.
What about odor from pets ?
Pet odor is due to poor drainage, which is not something you will have with GroTurf's high quality product and 100% permeable backing. Other turf products have a urethane backing with small drainage holes punched in every few inches. It is impossible for all moisture to drain through, and the urethane is known to hold moisture, and therefore you will be left with odor. We do, however, suggest spraying off your grass blades with a hose during dry summer months to further assist with this. Rain and snow will also aide in cleaning your turf.
What kind of maintenance is required ?
Synthetic turf is a very low maintenance product. A plastic rake or leaf blower is all you will need. Just like real grass, you should remove the leaves and debris. If you have pets, we suggest spraying off your turf with hose during dry summer months. Additionally, there are simple organic products available that you can attach to your hose and spray directly onto the turf to freshen it. Furthermore, anytime your turf needs some fluffing, or after a long winter with periods of snow laying on it, we suggest raking against the grain with a plastic rake.
the PROCESS of installing an
artificial lawn