ArtiFicial Lawn Services in chicago
When your to-do list no longer includes anything lawn-related or cleaning floors because of mud, you'll wish you did it sooner. Artificial grass is the perfect solution for hard-to-maintain areas, thanks to shade and pets. Artificial turf is also an intelligent choice for pool surrounds, playgrounds, or anywhere else you want the look of pristine natural grass minus the maintenance. GroTurf's extensive line of artificial grass is not only regularly mistaken for real grass, but also engineered to be one of the most pet friendly products available.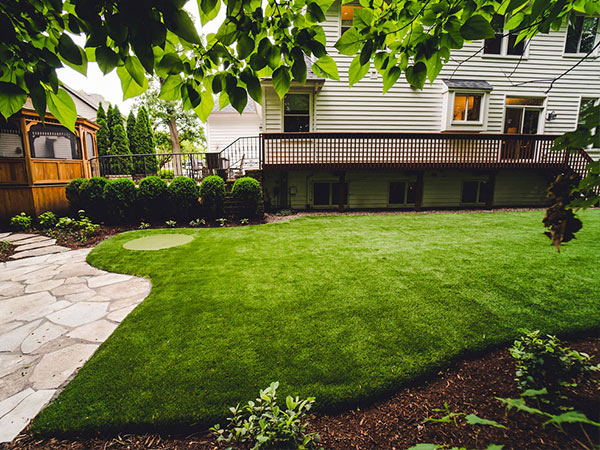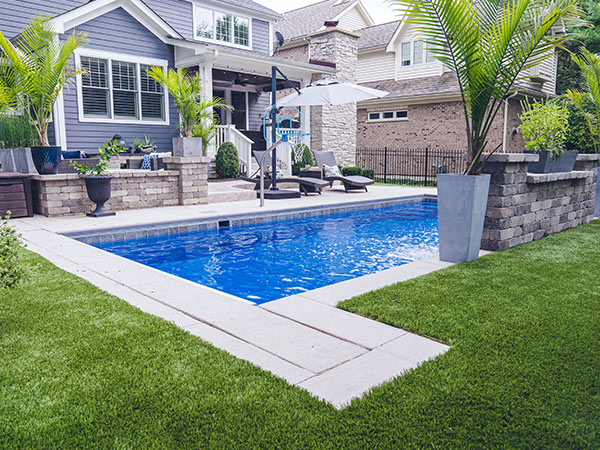 Residential & Commercial Artificial Grass installation
Our high-quality product is extremely low maintenance with a life expectancy of 15-20 years and includes a long-term warranty. Furthermore, yes, real grass is less expensive initially, but the reality is that the expenses will never end. As soon as your artificial lawn is installed, it not only saves you valuable time, it immediately begins saving you money, too. Over time, it will actually pay for itself!
Perhaps the most important feature of our product is the unique UltraFlo backing which allows moisture to drain through entirely. Other inferior turf products have a urethane or latex backing with small drainage holes punched in every few inches. One may logically infer that not all moisture can make its way through those holes, therefore leaving moisture behind, which will inevitably turn to permanent mold, mildew, or odor. Our UltraFlo backing eliminates the potential for these issues as it drains even better than natural grass!
Aside from the best drainage available, our UltraFlo backing has many other benefits including being more pliable than the solid urethane-backed turfs. This quality allows for more precise installation because our product can better conform to any natural undulation and allows for more subtle seams. Also because of the backing, GroTurf can boast that our product is 100% recyclable. The entire product is made from all polyolefin materials and is not bound for a landfill in the future. Your new lawn will be literally and figuratively green!
A common reservation with artificial turf is the shiny, "fake grass" look it can have. We don't blame you; however, this is not something you will see in our products. All artificial grasses that GroTurf installs are made with high quality, no-luster yarns that reduce reflection and glare. This is beneficial in two ways: First, it gives the turf a more realistic look; you'll see that the resemblance to natural grass is incredible! Second, these yarns cut glare and offer heat reduction technology; count on a 20% cooler temperature in direct sunlight compared to competitors'. Finally, these top-of-the-line yarns are also specifically engineered to be very resilient against heavy foot traffic. All of these features make GroTurf a worthwhile and enjoyable investment for residential or commercial artificial grass. Be sure to check out the artificial lawn GroTurf installed at Gallagher Way outside of Wrigley Field!
Advantages of Our Product
Whether you're designing a hardscape area to include turf, or your yard already includes a walkway, courtyard, or patio, our installation experts will ensure a seamless look with no detail missed.  We also regularly work with some of the best landscaping companies in Chicagoland, so if you need a recommendation for hardscaping, we're happy to point you in the right direction. Call today or submit an inquiry form to start the conversation.
Concerned about Drainage?
Unlike most turf products that only offer a solid urethane or latex backing with small drainage holes punched in, GroTurf offers a 100% permeable UltraFlo backing system, designed to allow moisture to drain through entirely. This unique feature is one of the ways GroTurf protects your investment.
WHAT CLIENTS ARE SAYING
The GroTurf crew is incredibly professional, polite, and courteous. We are so pleased with their attention to detail, and our lawn turned out better than I imagined! The process was easy, and I'm so glad we decided to make the investment. Looking forward to our future of no mud or mowing! Thank you, Brian and Staff!
We are proud to have an extensive portfolio of projects. While not all are pictured here, we would be happy to show you images of projects similar to your vision during our initial consultation. Reach out today by calling us or submitting an inquiry form to start the conversation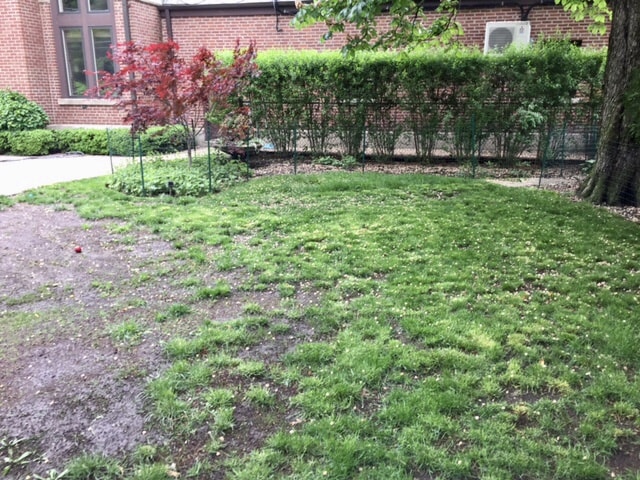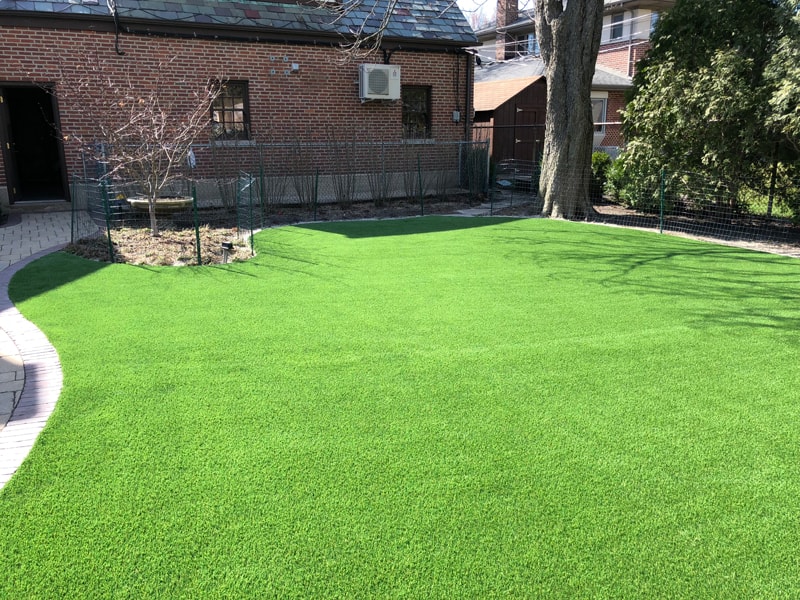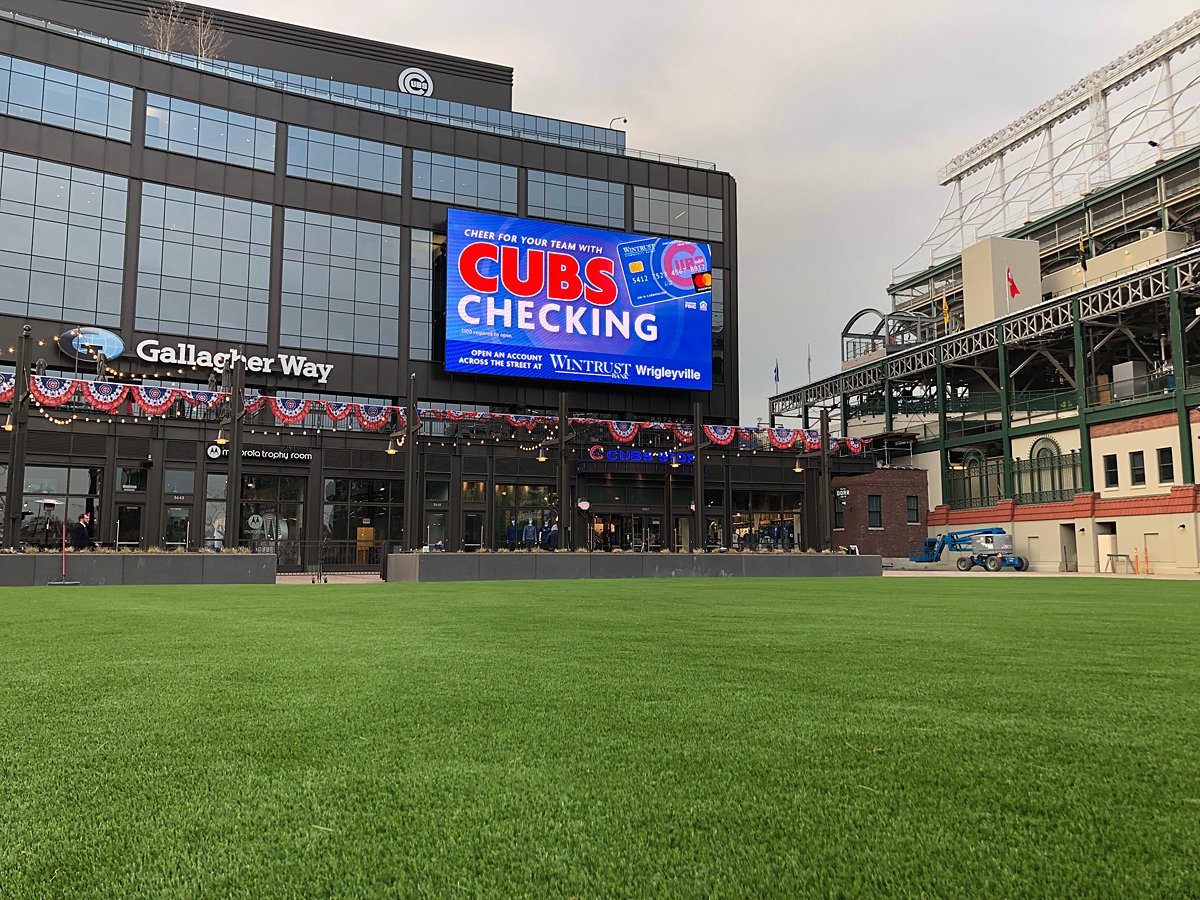 There's a reason GroTurf was chosen by the Cubs to install 10,000 sq. ft. of premium artificial grass at Gallagher Way! Exceptional Product. Exceptional Service.
Artificial grass in chicago & suburbs