chicago's experts in
Rooftop lawn installation
Besides using high quality, long lasting turf, GroTurf has the absolute best products and installation technique for rooftop lawns so your investment is protected. Proper drainage is our biggest priority for rooftop applications. Without proper drainage techniques, the turf will hold water and create mold and mildew issues, ultimately destroying the artificial grass on your Chicago  rooftop.
Residential & Commercial Rooftop grass in chicago
Since our artificial grass is 100% permeable, the moisture needs somewhere to go if it's not going into the ground. Our solution to this problem is a unique base panel system that we lay directly onto the rooftop before attaching the turf. Moisture seeps through the turf and is captured by the base panels, which then handle the drainage.
Many rooftop owners are also concerned about heat. Artificial grass is hotter than natural grass, and there is no way to change that fact. However, GroTurf's high-quality product has heat reduction technology and shows a reduction of almost 20% at higher temperatures. The low shine quality of our artificial turf also reduces reflection and glare, helping to promote cooler temperatures in the direct sunlight.
Schedule a consultation with GroTurf for your residential or commercial rooftop artificial grass. We will be happy to show samples of our turf and panels and further discuss how GroTurf's product and application method is the best possible investment you can make for a rooftop lawn.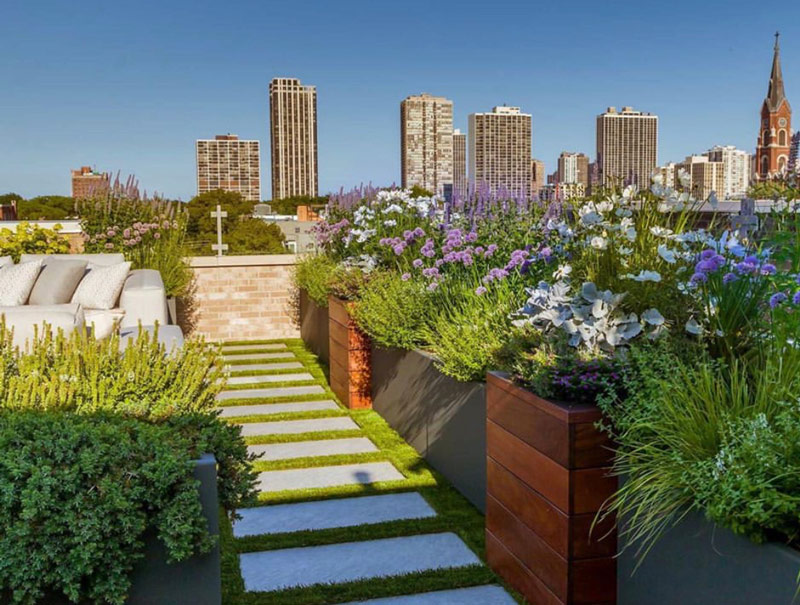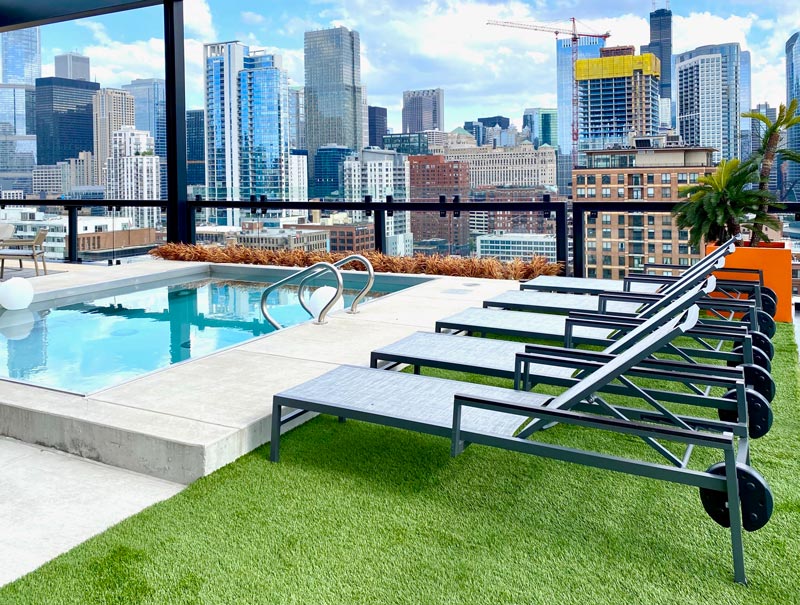 Advantages of Our Product
Add some fun to your rooftop space with a putting green! Using our signature rooftop base panel system, we can custom build a rooftop putting green in most any space.  
Concerned about Drainage?
Unlike most turf products that only offer a solid urethane or latex backing with small drainage holes punched in, GroTurf offers a 100% permeable UltraFlo backing system, designed to allow moisture to drain through entirely. This unique feature is one of the ways GroTurf protects your investment.
WHAT CLIENTS ARE SAYING
"The crew was really professional; they were very discreet on their way in and out of the building. When they left, they cleaned up really nicely and the result is just what we were looking for. The quality of the turf they use is really high, and even in the heavy rain it has drained without any problem. They really did a great job! I would recommend GroTurf anytime."
We are proud to have an extensive portfolio of rooftop lawn projects. While not all are pictured here, we would be happy to show you images of projects similar to your vision during our initial consultation. Reach out today by calling us or submitting an inquiry form to start the conversation
synthetic turf SERVICES in chicago