artificial Tee Lines & Driving Range Mats
Trust our very own PGA Professional when we say GroTurf has the best hitting mats and artificial tee line turf products on the market. GroTurf offers a line of highly durable tee line turf and driving range mats in varied shades of green. Our products offer the most realistic shot feedback and are exceptional for hitting iron and tee shots; they will even hold a real tee! The durability is absolutely superior. GroTurf's tee line turf and driving range mats will withstand even the busiest of ranges and impress the most avid golfers.
artificial Tee Lines & driving range mats for chicago & beyond
Artificial tee line turf is a worthwhile investment for private golf courses, public golf courses, and driving ranges. An artificial tee line installed by GroTurf is the perfect solution for high traffic ranges or for courses that want to keep their driving range looking pristine.
Never will you have to worry about the condition of the range after a large outing, or even junior golf. Members/golfers will be thrilled when you are able to open your range earlier in the season and close it later than usual because the natural grass tee is protected. Golf professionals also enjoy teaching on our artificial tee line turf because of the 'real feel' shot feedback.
Like our tee line turf, GroTurf's driving range mats are top-of-the-line. Range Mats see a lot of traffic and need to be replaced frequently; therefore, durability is crucial. However, the balance between durability and playability is key. Not only will our driving range mats outlast all competitors, but you can also count on the most realistic shot feedback available. Golfers are sure to appreciate our high quality mats and thus will deem your range a worthwhile and effective practice space!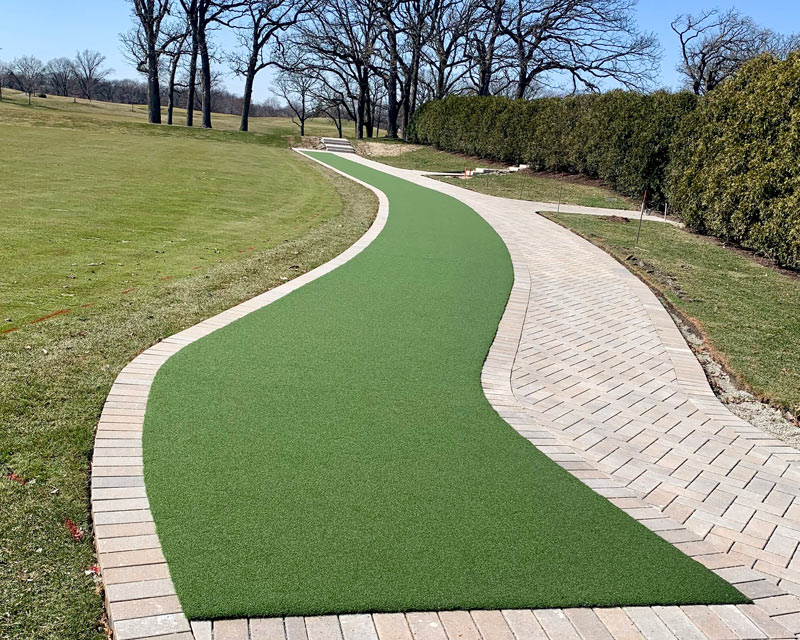 Advantages of Our Product
pga-calibur driving range mats & hitting mats for golf simulators
GroTurf's exclusive hitting mat is widely recommended by PGA Professionals and instructors. They can be found at many ranges and instruction facilities all over Chicagoland, but we will also ship nationwide. Besides the unmatched durability, another great feature of our hitting mats is that tees may be placed directly into them. Golfers and instructors alike love the real feel and realistic shot feedback!
Full Service Golf Simulator Design/Build
Interested in installing a golf simulator at your home or golf facility in Chicago or beyond? Sure, we've got you covered in the turf and mat department, but what about the actual golf simulator? Brian, our PGA professional, will design, procure, and install the best golf simulator system for your needs. He is very familiar with the many options available and the pros and cons of each. GroTurf is happy to provide full service golf simulator design/build or simply provide you with the turf needed for your golf simulator.
WHAT CLIENTS ARE SAYING
"Our new artificial tee line at Mistwood has been vital to our success. With limited grass tee space, we are forced to be innovative. GroTurf's product quality fits with what we offer at Mistwood. Brian and his staff were attentive to our needs and offered great solutions."
Director of Golf, Mistwood Golf Club
We are proud to have an extensive portfolio of projects. While not all are pictured here, we would be happy to show you images of projects similar to your vision during our initial consultation. Reach out today by calling us or 
submitting an inquiry form to start the conversation
GroTurf Tee Lines Can be Found at These Fine Golf Clubs:
Whistling Straits
Blackwolf Run
Beverly Country Club
Ruth Lake Country Club
Hinsdale Golf Club
Butterfield Country Club
Exmoor Country Club
Elgin Country Club
Mistwood Golf Club
White Eagle Country Club
South Bend Country Club
LacLaBelle Golf Club
Ravisloe Country Club
Sanctuary Golf Course
Royal Fox Country Club
Point O'Woods Golf & Country Club
Blue Mound Country Club
Orchard Lake Country Club
additional Golf & Sport Turf services