The previous day's rain will no longer be a burden on the following day's use!
Just in time for opening day, GroTurf installed the finest quality artificial grass in the Gallagher Way lawn space outside of Wrigley Field. In the weeks before the big day, the park has been bustling with construction. Several new suites, bathrooms, and upper deck areas were added, among other improvements. Gallagher Way boasts a fabulous new addition as well; you will find almost 10,000 sq. feet of our high-quality artificial grass ready for Wrigleyville residents and Cubs fans to enjoy!
(This is the scene before the game on Opening Day 2019… so many fans enjoying the new grass and commenting on the softness!)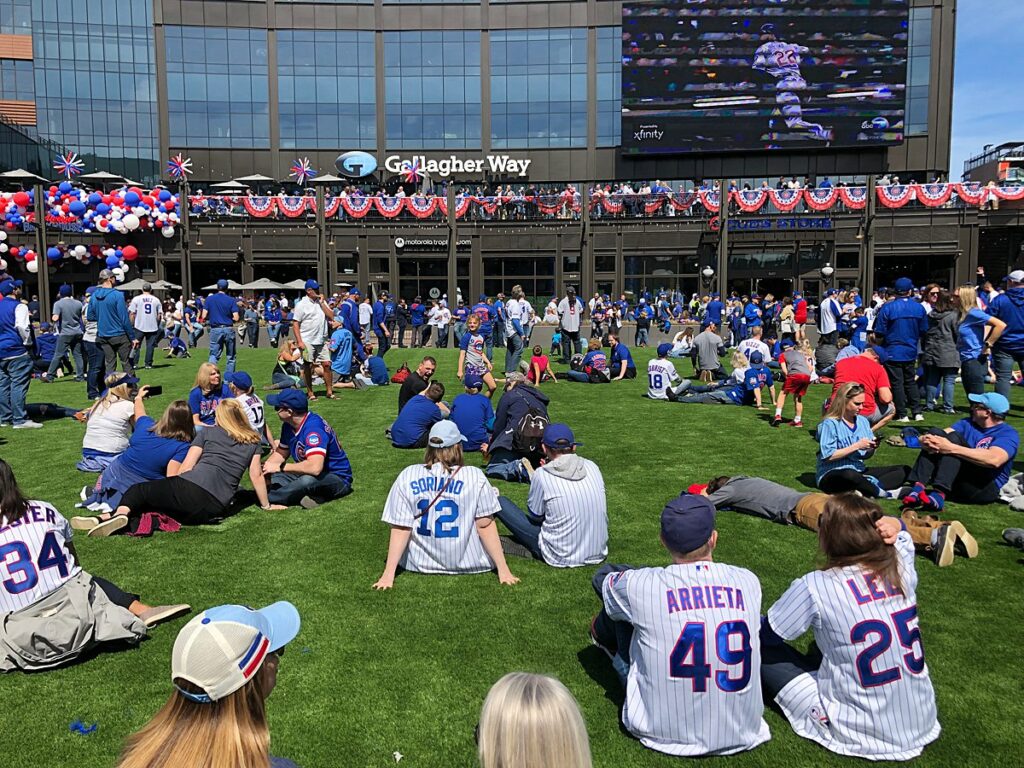 The Cubs were in search of a solution for their ongoing problem of hard-to-maintain natural grass in Gallagher Way due to the amount of activities and heavy pedestrian traffic this massive lawn regularly endures. Since the Gallagher Way space was constructed, that grass area had NEVER been mowed. Can you imagine?! It didn't stand a chance to grow after each new sod installation because of the immediate activity and traffic. The grounds grew had to re-sod the space 4 to 5 times each year! Like all other GroTurf clients, they became frustrated with constantly battling the mud, dead grass, and wet/soggy conditions that would hinder the lawn's availability for general use as well as scheduled activities. Gallagher Way regularly hosts yoga classes, family movie nights, concerts, farmers markets, and parties. Rooms at Hotel Zachary also overlook the entire space. Unsightly, discolored, muddy, and wet grass isn't ideal for any of the above, let alone for game days.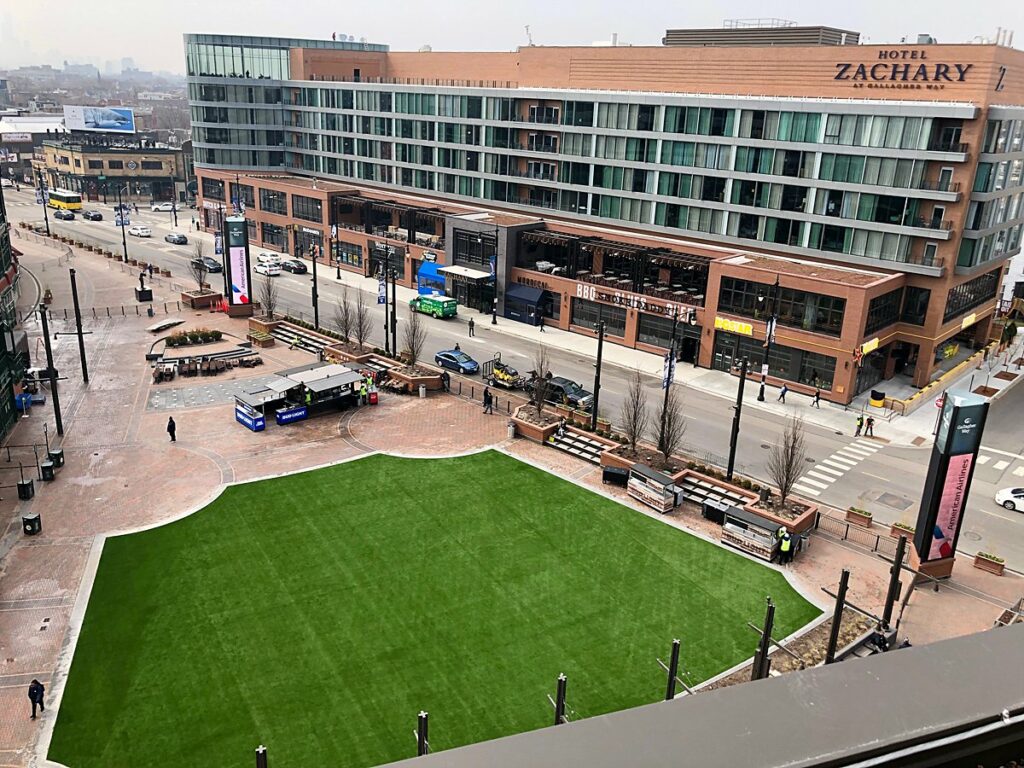 The operations team was smart to consider artificial grass for Gallagher Way; it's a perfect example of a lawn space that truly benefits from this solution. We educated them about the unique features of GroTurf's top quality artificial turf product and how it would solve their problems while also looking very realistic, as aesthetics is extremely important to the Cubs. Gallagher Way is a beautiful space, and any additions need to be cohesive with the existing brand.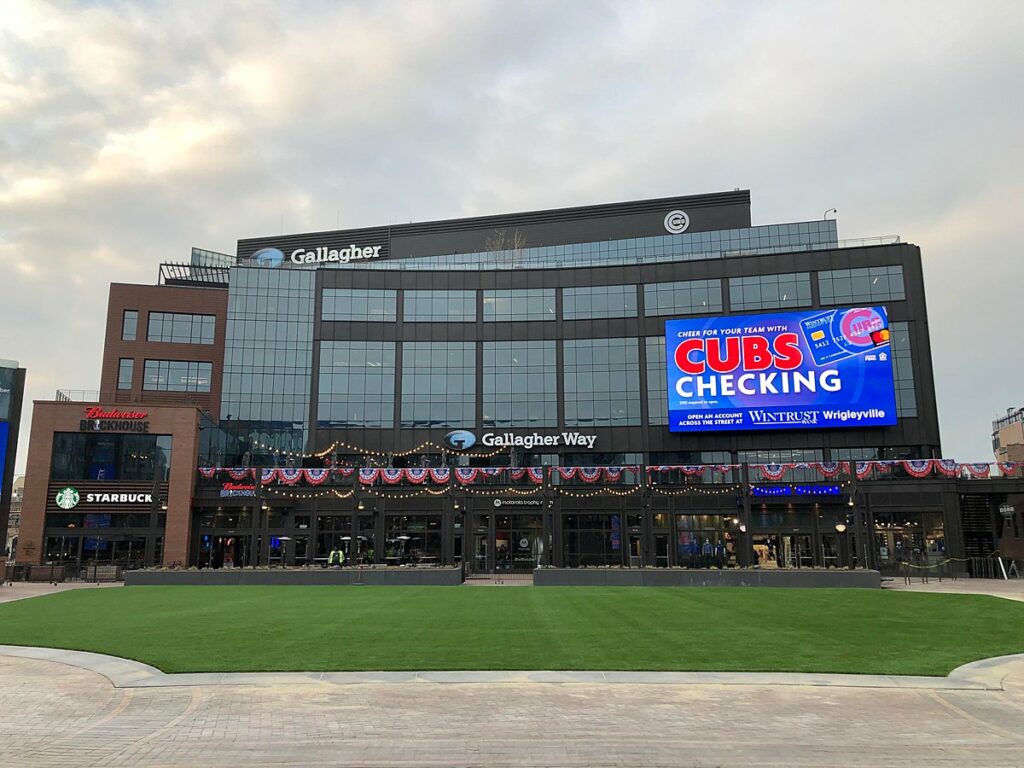 WHAT MAKES THE ARTIFICIAL GRASS AT GALLAGHER WAY SO EXCEPTIONAL???
GroTurf only uses the highest quality, longest lasting, American-made product. Here are the key features that benefit our clients:
100% Permeable Backing System (it drains like a dream and eliminates odor/mold/bacteria)
Kid & Pet Friendly
No Harmful Toxins in the Turf OR in the Infill
100% Recyclable- every last bit of it. (The lawn is literally and figuratively green!)
Heat Reduction Technology
Very Low Shine
Low Maintenance
Made in the USA
GroTurf understands that not all projects have the same needs. We believe in the importance of being presented with options. We invited the decision makers out to our showroom area in Addison to compare and assess several artificial grass varieties we've fully installed. They were very thoughtful in picking the variety they felt was softest for families and also looked most realistic so to maintain the charm of Wrigley Field and the surrounding neighborhoods. Now Chicago residents and Cubs fans will now ALWAYS be able to use the lawn since it will NEVER be too muddy or too wet for activity. No more cancelled yoga classes or movie nights! Play catch with your kids before games! Just like all of our past clients, Gallagher Way users can now count on soft and brilliant green grass always.
LIKE WHAT YOU SEE? INTERESTED IN AN ARTIFICIAL LAWN FOR YOUR OWN HOME?
Tired of grass that won't grow and/or constantly wiping muddy paws? This, too, may be the solution you need. Besides having the highest quality product available, we have the most experienced installation team in the region, and THAT MATTERS. We pride ourselves on offering you a custom experience and exceeding your expectations. Please be sure to browse our website and read more about all of the features our turf has to offer and also why it is so wonderful for pet owners! Fill out an inquiry form, and we will be happy to discuss your space and schedule a design consultation.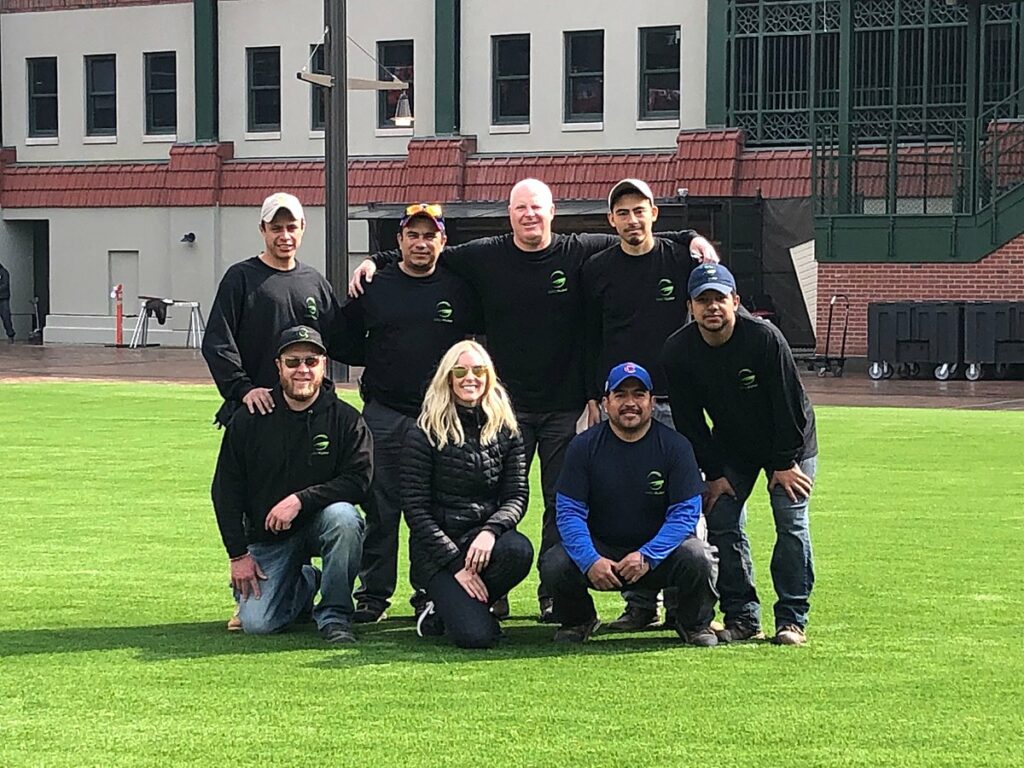 Who installed the artificial grass at Wrigley Field's Gallagher Way
GroTurf installed artificial grass in the Gallagher Way lawn space outside of Wrigley Field, just in time for opening day! You will find nearly 10,000 sq. feet of soft, realistic, high-quality artificial grass ready for Wrigleyville residents and Cubs fans to enjoy.